User experience is an emerging field in the Caribbean, but what certification is required? My name is Jason Clarke, a software engineer and user experience advocate and within this article, I aim to provide you with the step-by-step process of getting certified as a UI/UX designer or developer in the Caribbean. I will be doing this by going through the process myself and documenting the necessary steps. If you are new to UI/UX, I recommend that you read my previous post "Starting your UI/UX career in the Caribbean" for more information on the topic.
This article will detail my first-hand experience acquiring certifications from the Interaction Design Foundation (https://www.interaction-design.org/). The Interaction Design Foundation is the largest international design school online. It was founded in 2002 and has over 130,000 graduates worldwide. Moreover, it is the industry-recognized leader in online design education and can open you up to great local and international opportunities.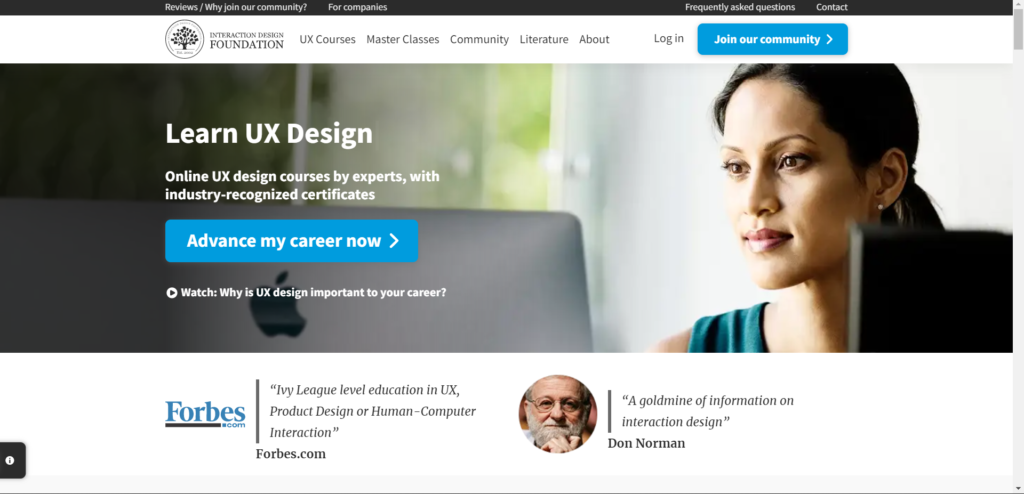 Having read this article you will gain the necessary information needed to make an impactful step toward or advance your career in UI/UX.
Signing Up for the Interaction Design Foundation
In order to join the Interaction Design Foundation and access their courses you will need a paid membership. Membership provides you with a unique membership ID, access to all courses and several other benefits. All persons who seek to take a course from the Interaction Design Foundation will be required to become a member of their community. The image below details the membership prices however these are subject to change.
A quick note is that if you are a student you can also get a reasonable discount by selecting student membership. However, for this article, I will be selecting a Professional Membership.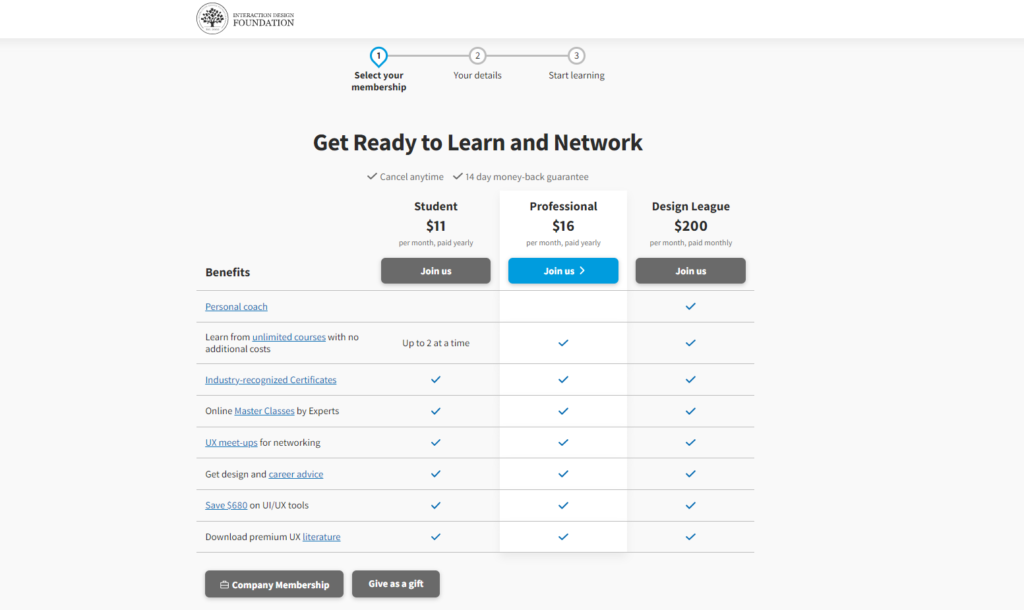 Many persons have let me know that the membership prices may prevent them from signing up. In order to give everyone a fair chance, I have reached out to the Interaction Design Foundation and acquired a referral link. People who use this link to sign up will be given 2 FREE MONTHS which reduces the membership costs by 18%. I will also be awarded 1 extra month on my membership when someone joins using the link.
The link: https://www.interaction-design.org/learn-ux-design?r=jason-clarke
Becoming a Member of the Interaction Design Foundation
After you have selected a plan you will be brought to the purchasing page. You have the option of using various forms of payment such as Credit or Debit cards as well as Paypal. It should also be noted that the minimum membership period lasts for 1 year.
After purchasing your membership, you will be given the opportunity to fill out your account details and confirm your email address.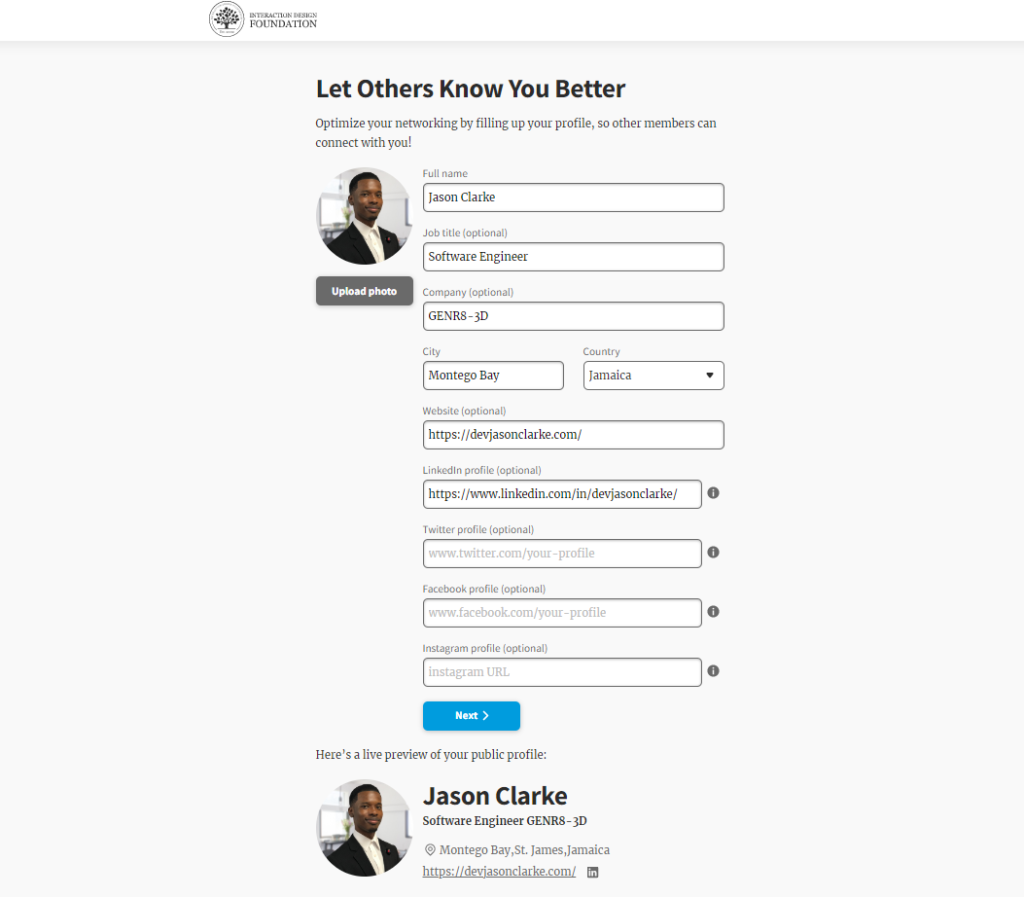 Having done this, a membership certificate is sent to the verified email address. This certificate, a first of many, can be attached to your LinkedIn or downloaded to be placed in your portfolio, blog, resume etc.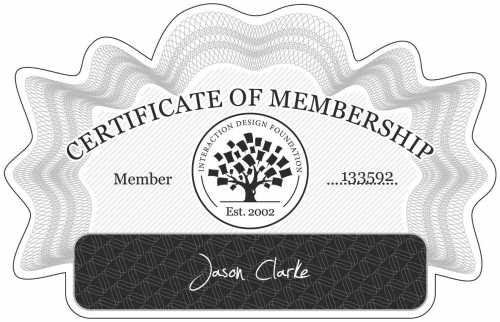 Deciding Which Courses to Take
After you have completed your profile and received your certificate, you will now have the ability to join the available courses. The selection however may seem overwhelming. The Interaction Design Foundation has over 30 courses, many of which specialize in specific areas of UI/UX such as accessibility design, mobile responsiveness or Human Computer Interactions however they include learning paths if you don't know exactly where to get started.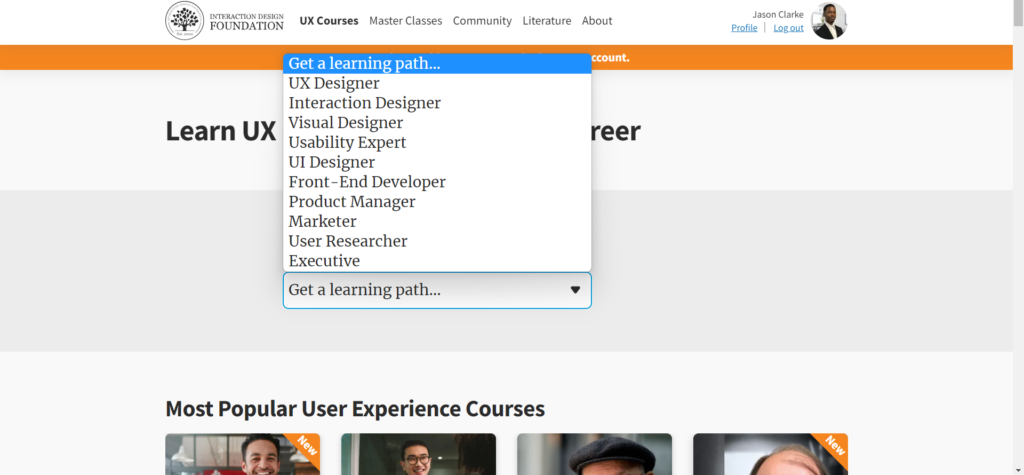 Selecting any of these paths gives you a step-by-step program to take you from a complete beginner to an advanced practitioner and this is the recommended process. I will however skip the foundation courses due to my history in UX and start learning Human-Computer Interaction and Design for the 21st century, both topics that interest me.
Something that should be noted is if you sign up with a student membership, you will be limited to taking only 2 courses at a time. If you wish to pursue multiple courses simultaneously you will either have to upgrade your membership to Professional or pay an additional fee for the additional course.
A benefit of the Interaction Design Foundation is that you are not bound to one set path, you have the option to choose what you want to learn and when you want to learn it.
After you have selected a course that you would like to take, I recommend looking at the course outline so that you have an understanding of what is required, the time it would take and any deadlines you may have. After you have thoroughly reviewed the course, starting it is as easy as pressing the "Start Course Now" button.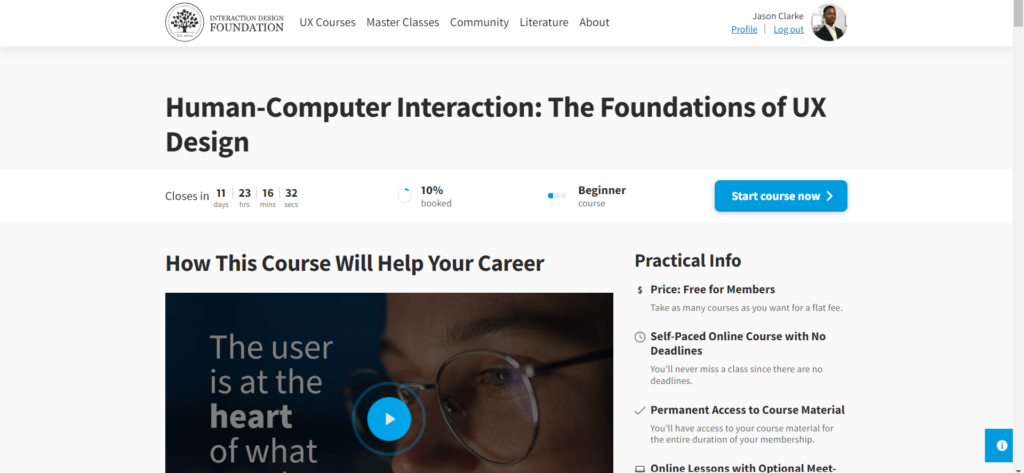 Time is an important factor and many of these courses take an estimated 4 weeks to complete. the Interaction Design Foundation also limits the number of lessons you can take in the course. Each week, a new lesson is released, allowing you time to absorb the content of what is being taught instead of zooming through.
How do I earn my certificate?
Certificates are earned by answering both multiple-choice and open-ended questions. Multiple-choice questions are marked instantly when you submit your answer however open-ended questions are marked by an instructor and in my experience, it usually takes a couple of weeks for them to be marked.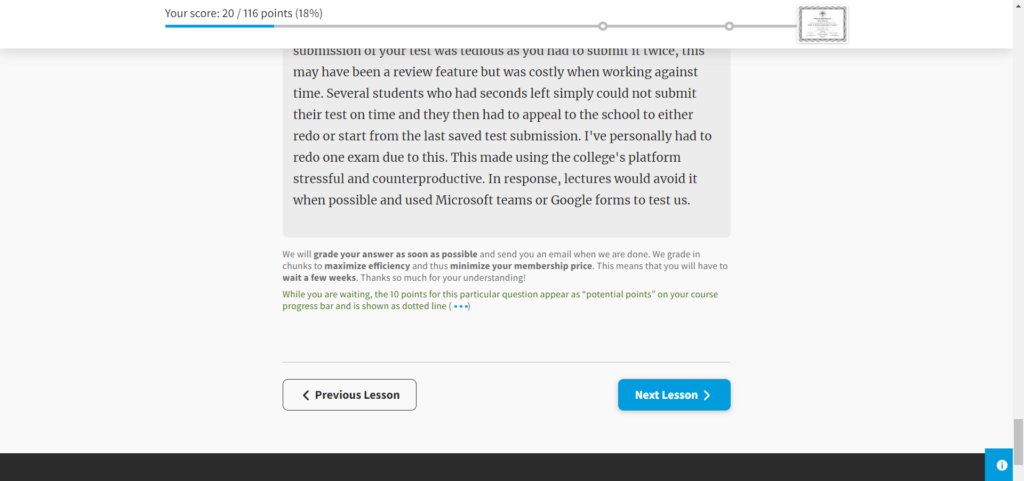 A tip for answering open-ended questions is to pay attention to what is asked and answer appropriately using relevant examples if you can. I also advise that you answer in a paragraph or two as short sentences provide little opportunities for big marks.
When answering the multiple choice questions it is important to pay attention to the lesson that it is on. Do not answer the questions before you have gone through the lesson. A new lesson may build upon or completely change something previously taught, so do not jump to conclusions.
When do I get my certificate?
In order to get your certificate, you need to score at least 70% in the course. Having scored 70%, you will have the option to generate your certificate by pressing the button that appears beside the certificate icon.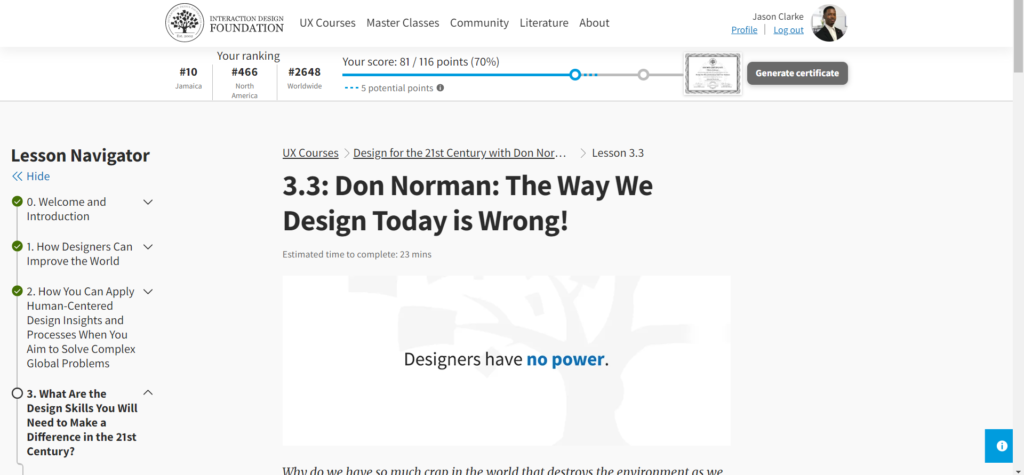 Doing so is however not recommended as you should always strive for excellence by achieving the highest score that you possibly can. Also, they give a disclaimer that states that you forfeit the chance for a higher score if you generate the certificate before you complete all the questions. As this is not reversible it may negatively impact you in the near future. My advice is to complete the course in its entirety before generating your certificate.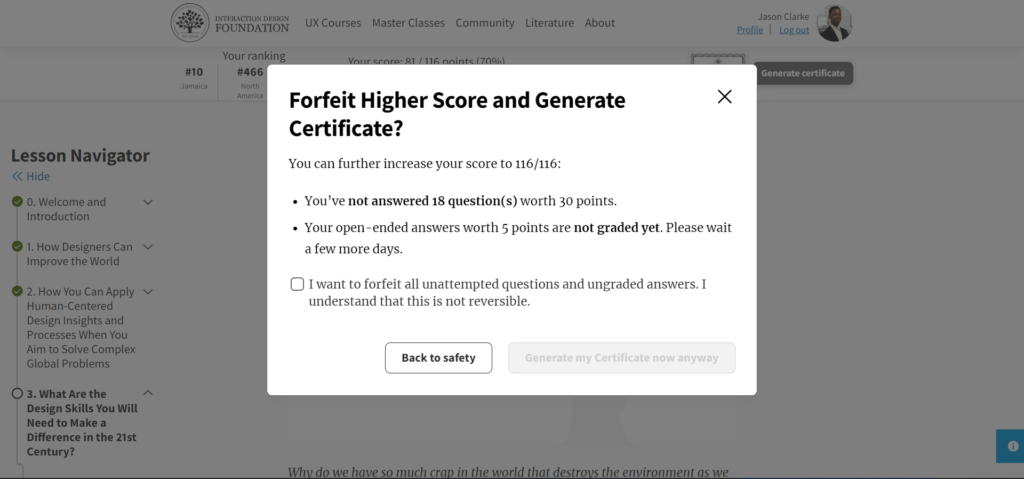 Completing the Course
Your course is considered complete when all the questions that you have answered are graded. As stated before it may take a few weeks for the open-ended questions to be graded so don't be tempted to claim an early certificate.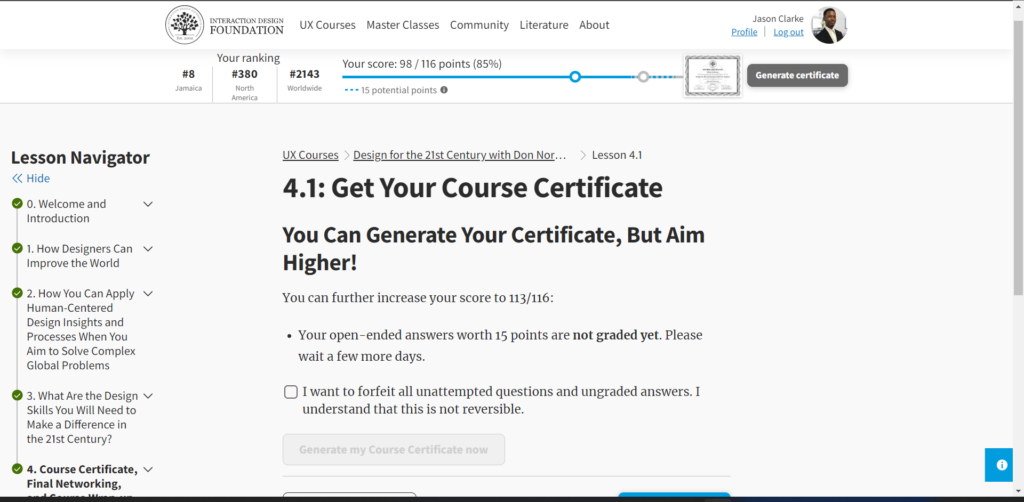 After waiting for the instructor to mark your responses you'll be greeted by a new message.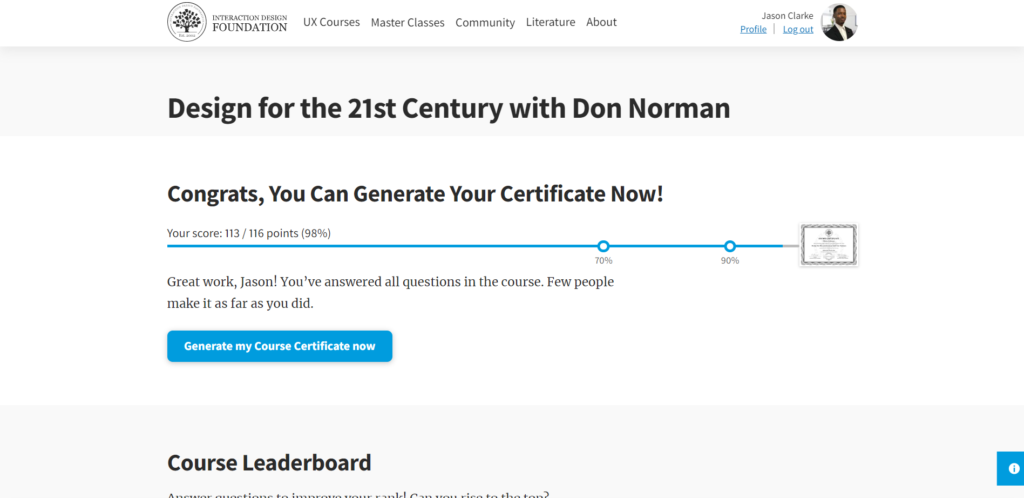 You will now be able to generate your Course Certificate by clicking on the "Generate my Course Certificate now" button. A page will be dedicated to your certificate.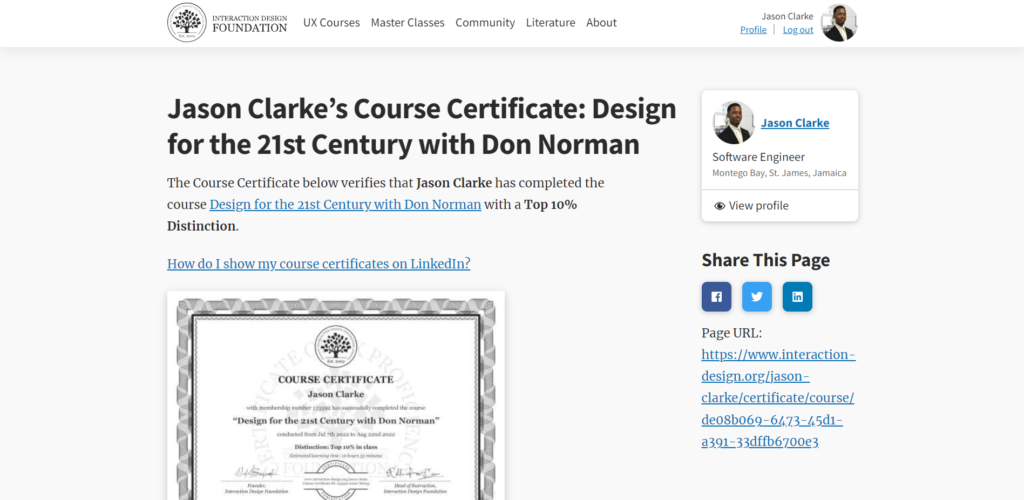 On this page, you'll be able to download your certificate and be given instructions on how to show your certificate on platforms such as LinkedIn. This is my certificate: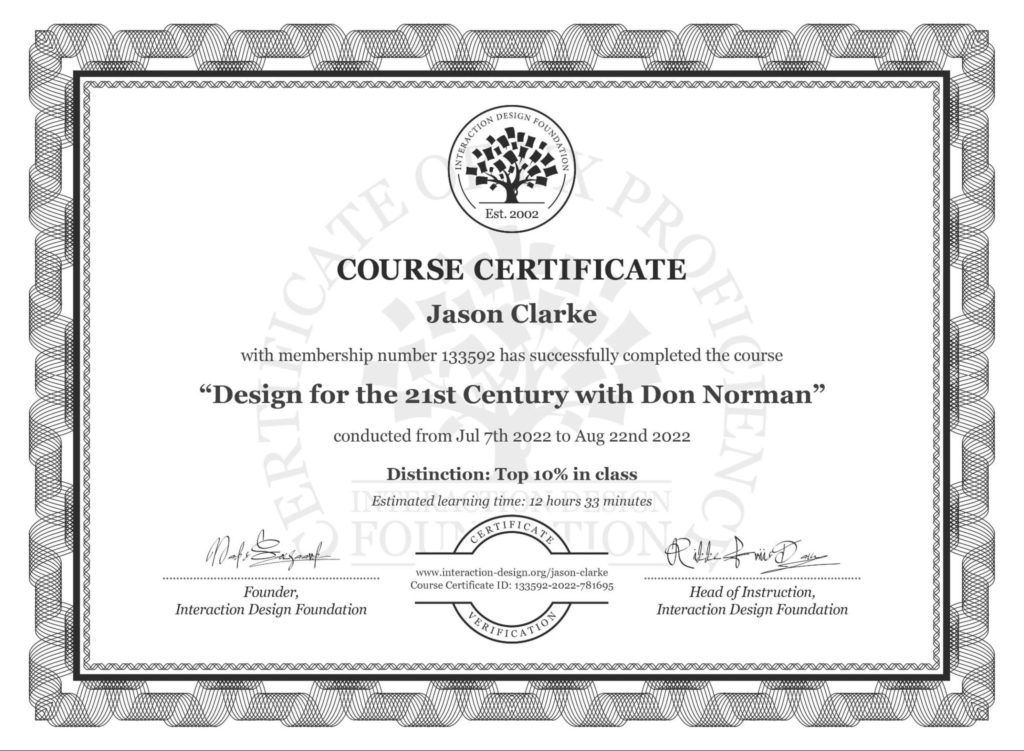 You will also be able to share the page using its own public URL, for example, this is the URL to my certificate: https://www.interaction-design.org/jason-clarke/certificate/course/de08b069-6473-45d1-a391-33dffb6700e3.
It might be long so I recommend bookmarking it for easy access especially if you're going to be in an interview.
Congratulations!
Congratulations! You are now equipped with the knowledge needed for getting certified as a UI/UX designer or developer in the Caribbean. This certification is however international and industry-recognized so it can open you up to global opportunities in the UI/UX space. Have fun starting and advancing your careers!